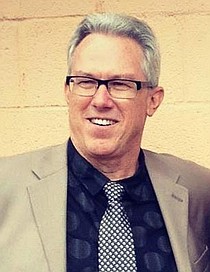 Recent Stories
Two weeks into the 2018 Arizona high school track and field season has three Mingus Union athletes sitting in the top spot in the latest Division 3 rankings.

One week into the 2018 track season, Mingus Union's Hannah DeVore and Meg Babcock have punched their ticket to the "Big Show."

Arizona Prep Track and Field
2017 provided one of the biggest assaults on the Arizona high school track and field record book in the 100-plus years the sport has been contested in the Grand Canyon State.

CLARKDALE – A volunteer baseball coach with the Mayer Unified School District was arrested Feb. 20 on allegations of misdemeanor disorderly conduct and threats resulting from an incident at the Clarkdale-Jerome School during an after-hours baseball game between Clarkdale-Jerome and Mayer Elementary, according to a Clarkdale police report.

The Camp Verde Marshal's Office Thursday arrested a Prescott man just minutes after he was accused of robbing the Camp Verde Chase Bank.

During his four years as the Mingus Union school superintendent, Tim Foist at one time or another rubbed just about everyone in town the wrong way.

COTTONWOOD – When it comes to putting together a city budget, a six-month window of time can be like the blink of an eye.

Monday marks our annual observance of Martin Luther King, Jr., Day. It should bring back some painful and embarrassing memories for Arizona.

The Phoenix office of the Federal Bureau of Investigation made its first public statement Monday concerning the Friday shooting death of a Kansas man by an officer of the U.S. Forest Service.

The Hutchinson, Kansas, man shot and killed by a U.S. Forest Service officer Friday has been characterized in social media postings as a much-loved member of his community.